As growth marketers, it's essential to align, prioritise, test and measure experiments – fast. This is the basis of any effective growth marketing framework.
This is made a lot easier by adopting a marketing stack that enables you to gather and make sense of insights quickly and rapidly deploy tests.
Fortunately, you don't have to do this alone. Having used every growth marketing tool under the sun (and building our own!) we decided to share our top picks for the coming year.
Here we've collated our favourite growth marketing tools to help you accelerate the transition and make your marketing operations run as efficiently and effectively as possible.
Testing tools
We're big fans of Google Optimize here at TrueNorth. Not only is it free (up to a point) but it's easy to use with few bells and whistles, making split testing fast to get started with.
As you'd expect, it connects seamlessly with your goals in Google Analytics and allows you to set up tests quickly in an intuitive editor.
What it does: A/B, multivariate, redirect testing and more.
Pricing: Free
Benefits:
Free to use
Easy WYSIWYG editor requires zero coding experience to use while also allowing raw HTML, JavaScript and CSS edits
Natively integrated with Google Analytics, Google Ads, and other Google solutions
Different versions for small and enterprise level businesses, tailored to their unique needs
Downsides:
Fewer deep editing features for experienced developers
Limited options for support
What it does: A/B, multivariate, split URL testing and much more
Pricing: Available on request
Benefits:
Offers both intuitive point-and-click what-you-see-is-what-you-get (WYSIWYG) visual editors for marketing teams without coding experience, and powerful SDKs for product and engineering teams
Allows HTML, CSS, JavaScript, and jQuery changes, as well as JS/CSS library inclusion
Collect feedback in real-time using scalable on-page surveys
Deploy time-sensitive widgets such as modals and pop-ups on your website with no need for IT assistance
24/7 support with average response time <1 hour
Used by leading brands like Disney, eBay, HBO, Domino's, Ubisoft and more
Downsides:
May come with more features than you need
Potentially expensive
Personalisation tools
What it does: Personalise everything in depth from emails to sales pages
Pricing: $179 USD per month for full personalisation capabilities, 14-day free trial available
Benefits:
Point-and-click personalisation with no need to code
Works without slowing your website load time down by adding just a single line of code to your website
Learn more about who's visiting your website, including their job role, industry, and size of their business
Sync survey data, segmentation, purchase history and more with email database integration
Includes CTA funnel templates to help you get started
Downsides:
Potentially expensive
Focuses solely on personalisation, unlike other multi-functional tools
What it does: AI-powered recommendations for how to personalise your marketing materials
Pricing: Free rollouts with limited features, prices of premium version available on demand
Benefits:
Personalise content using a drag-and-drop campaign editor – no need for IT involvement
Offer AI-driven content and product recommendations to your customers
AI predictive audience capabilities
Omni-channel campaigning functionality
Comes with many other features aside from personalisation
Downsides:
Full premium access to Optimizely features may be overkill for your company's needs
Potentially expensive
Data-heavy, potentially less layman friendly
What it does: Convert visitors into leads and sales with a simple personalisation dashboard
Pricing: $29-299 USD per month depending on the size and needs of your business, 14-day free trial available
Benefits:
Simple language and easy to use dashboard interface suitable for the less tech-focused
Easy to set up by copying and pasting a line of code into the header of your website
Ability to send conversion events from your CMS via Zapier or a custom webhook
Change the timing, position, and display rules for each campaign with custom settings
Downsides:
May lack deeper features for engineers and developers
Message testing
What it does: Discover if your messaging is resonating with real people you market to with audience targeting
Pricing: It varies, but we typically pay $300 – $700 per test (depending on audience seniority and volume of responses).
Benefits:
Message test your website, ad, and email copy to make sure it hits the mark
Learn more about target customers with customisable surveys
Test with verified B2B audiences, targeting by job title and industry
Receive feedback from ICPs on messaging effectiveness – results in just 12-48 hours
Downsides:
Aimed at B2B, potentially less to offer for B2C-focused businesses
CRO / landing page tools
What it does: Build landing pages, banners and popups
Pricing: $90-225 USD per month depending on size and needs, 14-day trial available
Benefits:
Create pre-optimised landing pages with data from over 1.5 billion previous conversions to accurately predict what will work best
Generate content instantly with AI-driven copy assistance
Automatically send visitors to the landing page that fits them best
Assemble landing pages in just a few clicks with easy to use WYSIWYG editors
Downsides:
Potentially fewer features for engineers and developers
What it does: Build landing pages with features like built-in collaboration tools
Pricing: $299 USD per month (or $199 USD per month with annual pricing)
Benefits:
Use an intuitive drag-and-drop designer to create landing pages without a developer
Includes personalisation, experimentation, visualisation, collaboration and speed optimisation tools
Over 500+ layouts built and tested for conversion
Quickly scale pages with custom blocks that you can save, reuse, and update
Downsides:
You may not need the other features included
Custom plans offered on demand may be expensive
What it does: Easily build landing pages, websites and more to help you effectively connect with your audience
Pricing: $27-59 USD per month with annual billing depending on package, 14-day trial available
Benefits:
Built-in conversion guidance to predict page performance before publishing
Unlimited lead collection and traffic – no payment caps on your success
Offers code-free drag-and-drop customisation templates
Unlimited page publishing capabilities
Downsides:
Potentially fewer features for engineers and developers
Product analytics
What it does: Empower your team with self-service insight into how your customers think
Pricing: Free plan available, premium feature prices available on request
Benefits:
Explore behavioural data to determine high-value customers and most-loved features
Develop a deeper understanding of how customers experience your digital products by tracking engagement
Democratise data to remove barriers between teams and foster collaboration
Intuitive built-in data management dashboard integrates and governs all your sources
Downsides:
Limited features in free plan
Premium version potentially expensive
What it does: Convert, engage and retain more users with powerful self-serve product analytics
Pricing: Free plan available, premium version starts at $25 USD per month
Benefits:
Compile interactive reports to answer any question, from which features are most popular to which behaviours are tied to long-term retention
Build retroactive funnels and analyse conversion rates in real-time
Simple workflows get you the answers you need in just a few clicks, no coding experience required
Connect Mixpanel directly to your existing data lake
Downsides:
Potentially fewer features for engineers and developers
What it does: Uncover hidden friction and opportunities in the customer journey to build a better digital experience
Pricing: Free plan available, premium plan prices available on request
Benefits:
Displays every action by every user on your product or site with directions on which improvements will be most impactful
Automate behavioural data collection without the need for engineers
Includes powerful data science layer to sift through your dataset and pinpoint the most interesting events and behaviours
Low-code platform and visualisation tools help non-coder teams locate the insights they need
Downsides:
Some engineer involvement potentially required
Premium plans potentially expensive
What it does: Understand how users behave on your website and what they need from you to improve the experience
Pricing: Free plan available, premium plans range from €39-389 per month
Benefits:
Study user actions as they engage with your product in real time with heatmaps, recordings, and surveys
Capture unbiased feedback in the moment with unobtrusive widgets
Analyse thousands of reliable responses at scale to give you a steer on what changes to make
Prioritised end-user privacy to keep your data safe at every step of the journey
Downsides:
Analytics focused, which may be a negative to those looking for a more holistic all-in-one tool
Marketing automation
What it does: Level up your emails and drive growth with customer experience automation
Pricing: $7.50-139.50 USD per month depending on package, free trial available
Benefits:
Built for both B2B and B2C companies
Easily set up a welcome series with segmented contacts, using simple workflows to automate work and save time
Intuitive CRM with email and sales automation built-in to keep all of your customer data organised on one simple platform
Free online training, customer support and migration
Downsides:
Potentially includes more features than you may need
What it does: Create 'delightful' customer experiences with a powerful and simple CRM platform
Pricing: Free plan available, premium plans range from $45-3,200 USD per month
Benefits:
Includes all of the tools you need to conduct marketing, sales, content management and customer service from one CRM platform
Track ROI with revenue attribution reporting
Use new and existing customer data enable personalisation at scale
Automate cross-functional operations, manage data in bulk, and scale your efforts with simple workflows
Downsides:
Potentially expensive if you require ABM functionality
Not suitable if you already have an existing CRM you want to stick with
Growth automation
What it does: Target your prospects with personalised, automated LinkedIn outreach
Pricing: Free plan available, premium plans from £9.08-398
Benefits:
Engage with self-selected prospects on LinkedIn, from endorsing their skills to sending them multiple, delayed, and personalised direct messages
Retain full control and visibility of activities from your LinkedIn account in browser
Safely find qualified leads and free up valuable time and money by focusing on high value sales activity
Downsides:
LinkedIn automation only, other tools may be required for other platforms
What it does: Move info between your web apps automatically with no code required
Pricing: Free plan available, premium plans range from £14.99-449.29
Benefits:
Finish routine tasks automatically, such as copying attachments from Gmail to Dropbox
Easy to create new workflows with simple, fill-in-the-blank setup process
Choose from thousands of pre-existing templates or build your own custom workflows
Send emails, convert data, and much more with a growing list of built-in apps
Downsides:
Free plan has minimal features
Check software you use is compatible before signing up
What it does: Find professional email addresses in seconds and make connecting with important people easier
Pricing: Free plan available, premium plans range from £36-293 per month
Benefits:
Type a name and instantly find the most likely email address for that person, with a percentage-based confidence score
Save profiles to your leads, with options to export or synchronise with your CRM
Remove people you're not looking for with type filters and options to list only personal or role-based email addresses
Check your findings against listed public sources and last discovery dates
Downsides:
100% accuracy not guaranteed
Free plan has minimal features
What it does: Reach potential customers faster and more easily with an outbound sales platform that combines prospecting and outreach in one place
Pricing: $49-199 per month with custom packages available upon request
Benefits:
Reduce prospecting time to as little as 15 minutes a day and keep your pipeline full
Gain access to a tailored list of potential customers and their contact details instantly
Easily create personalised emails and schedule automated campaigns from one simple platform
Take advantage of a database that's updated continuously, resulting in high email deliverability and a bounce rate below 10%
Downsides:
Potentially expensive depending on your requirements
What it does: Deliver exceptional, personalised customer experiences throughout the entire customer lifecycle
Pricing: Prices available on request
Benefits:
Have personalised, automated conversations with customers in real-time, instead of asking them to fill out a form and waiting for follow up
Offers deep integrations with your existing sales and marketing platforms to turn every website visit into a personalised experience
Prioritise target accounts and gain access to the context and tools you need to reach out to the buying committee
Downsides:
Potentially expensive
Ensure existing platforms are compatible before signing up
We hope the list of tools above will empower your team to discover strategies that succeed. Growth marketing is the future of marketing, so there's no time like the present to start reaping the rewards of this innovative approach.
And finally, if you'd like to centralise your growth marketing activity in one place, we have one final suggestion for your marketing stack…
With TrueNorth, you can track all of your ideas, experiments, and their performance under one roof – connected to your marketing objectives.
By projecting your growth, your marketing team and stakeholders can visualise the path between where you are and where you want to go. Crucially, you can then tie your marketing activity to your milestones to stay on track.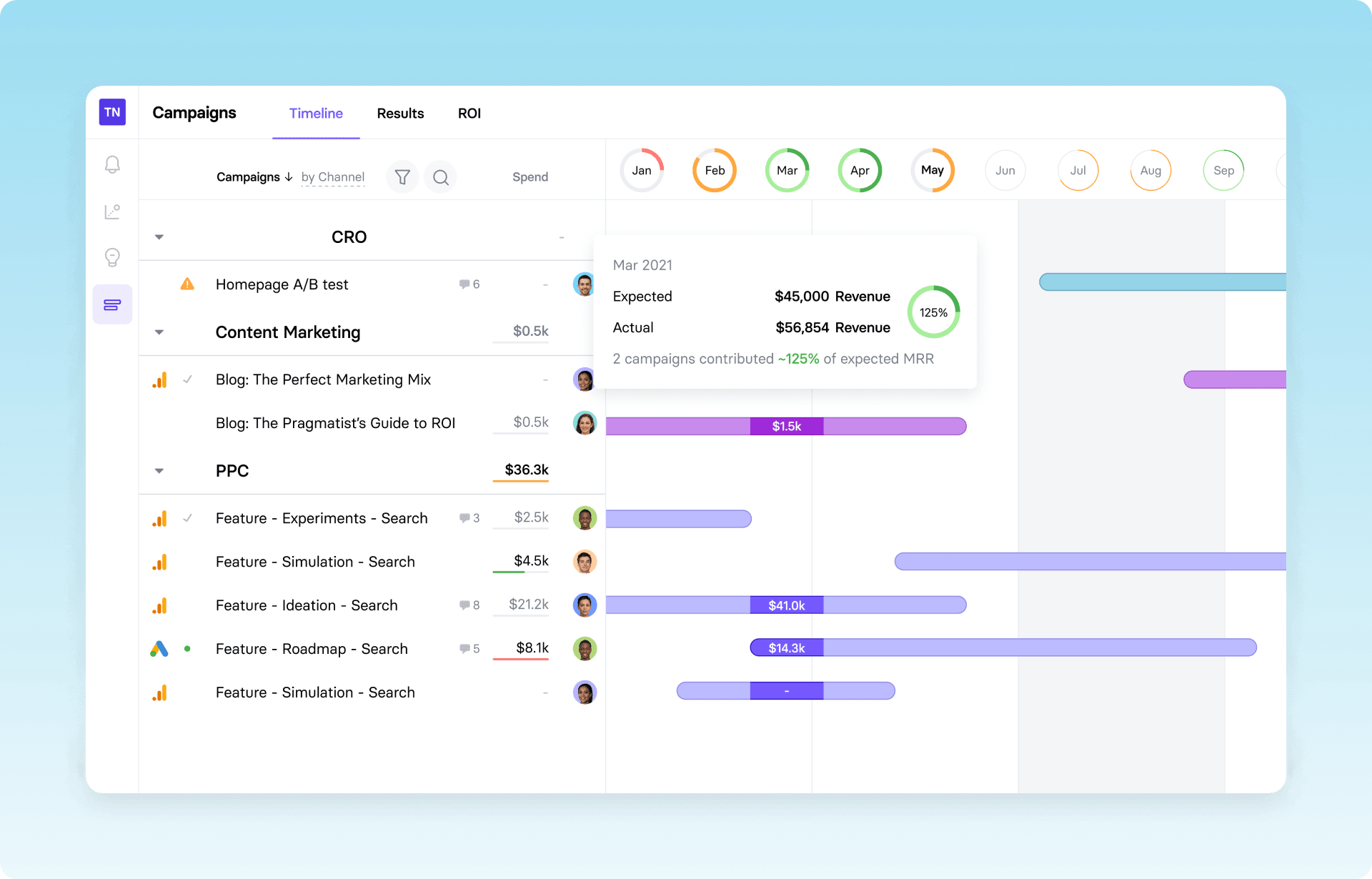 TrueNorth empowers your team to make the most of your growth marketing efforts, all in one place. If you'd like a free trial, you can get one here.
Still confused about why growth marketing matters? Learn more in our comprehensive resource list.
Got a great tool you think we missed in this list? Drop us a comment below.