It's becoming increasingly important to have a marketing plan that is data-driven, goals-focused, and grounded in experimentation. Why? Data-driven planning takes the traditional marketing model and adds layers; such as A/B testing, data-driven insight, and embedded goals.
Moreover, data-driven marketing planning dives deep into the data to figure out what strategies are working and uses the right tools to ensure that insight can be easily found.
"The insight gained from this approach means marketing can get started with testing real data – rather than wasting precious weeks planning, only to realise that reality isn't what they expected."
In this article, we hope to provoke your thoughts about the ways data and experiments can fast-track the marketing planning process – and your growth goals.
Step 1. Define high-level objectives
Goals are an essential component of your marketing plan. That's why they are often the first place you start. Goals set the direction for what needs to happen and are the foundation of the plan you build to get there.
Essentially, the goals section of your marketing plan should clearly lay out how you want your business to be different after the marketing plan has been carried out. And of course, they need to be SMART – specific, measurable, attainable, relevant, and time-bound – so you'll be able to know whether or not they were met.
At this stage it's also really important to research competitors, and assess where your business is currently. Use this insight and your high-level goals to establish your objectives by filling these blanks:
Who: This should be your buyer persona.
Why: What are the pain points your product is going to solve for them? What are their needs and wants?
What: What tactics will you use to reach your ideal customers?
How: Which channels will you use? And when?
Step 2. Set KPIs and success metrics
Once you've identified your high-level goals and objectives, you need a way to understand if your marketing plan is working.
Aligning your goals with business KPIs and growth metrics is the best way to see if you're on track toward achieving long-term growth.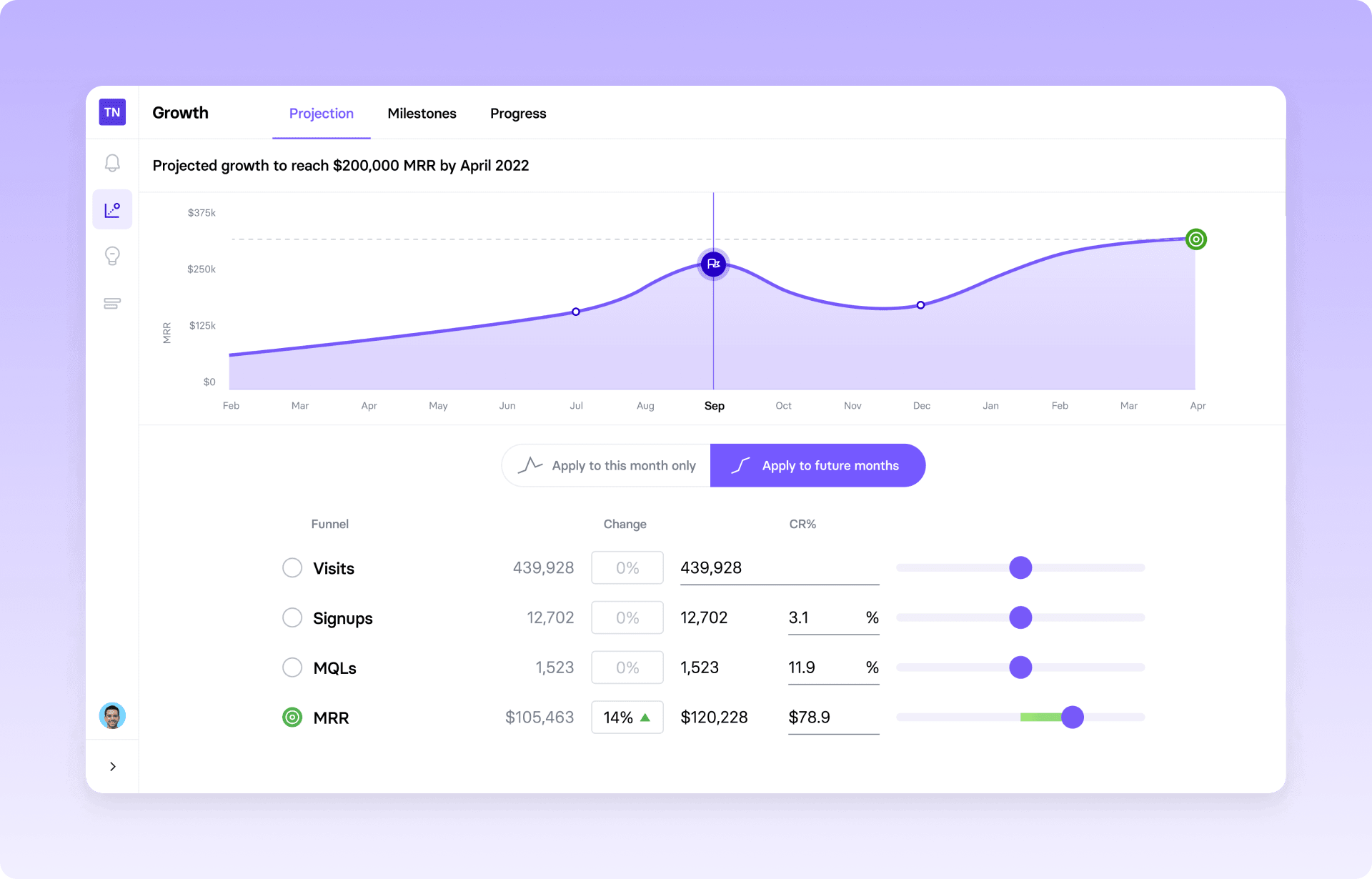 It's important to set up metrics for each channel, then outline what success looks like for each one. Once you have this, you'll have found your "North Star" – the metrics that will guide your marketing strategy toward achieving success and reaching your goals.
Step 3. Fully understand your Ideal Customer Profile
Here is where you're going to dig into your buyer personas to understand your Ideal Customer Profile (ICP). This will help you understand the customers you already have and the customers you want.
Make sure that you uncover the answer to key questions, such as; what motivates them to make a purchase? What keeps them up at night? What are they passionate about? Look at all the key factors to build a complete profile of your ideal customer, which you can then segment by interests, behaviours, and more.
A refined customer profile can help your company build more impactful features, find and attract more people that are likely to buy your product, develop a stronger relationship with your customers, and put you on a better trajectory for growth.
Step 4. Choose tactics to test and experiment early on
Testing and experimentation are the cornerstones of successful marketing planning. Continually testing and learning with dimensions such as new channels, creative strategies, and personalised formats to find approaches that work – and, equally important, ones that don't – is crucial to making future marketing decisions based on proven results, rather than opinion.
The goal is to keep trying until you find what works, and then to set-up a process to repeat it in order to reach sustainable growth.
Remember: A failed experiment is not a bad thing. In fact, failure is the quickest way to gain valuable information. Then once you succeed you can optimise and continue the process.
Step 5. Set your marketing budget
There is a general rule-of-thumb in the marketing world that you should aim at spending between 2-5% of your sales revenue on marketing. But how much you spend on marketing depends on a lot of factors.
For instance, there may be times when you will need to spend more, such as in the early days of your company foundation when you need to invest in your day-to-day marketing activities.
Pro tip: To dig a little deeper to form an accurate marketing budget, you should analyse the way your customers engage with you. And what results you saw from your initial test and experimentation phase.
Step 6. Create milestones and checkpoints
In order to achieve your end goal, you need to evaluate your progress along the way to see if you're on track.
Having checkpoints in place will help you determine where you're falling behind, and where you might need to course-correct.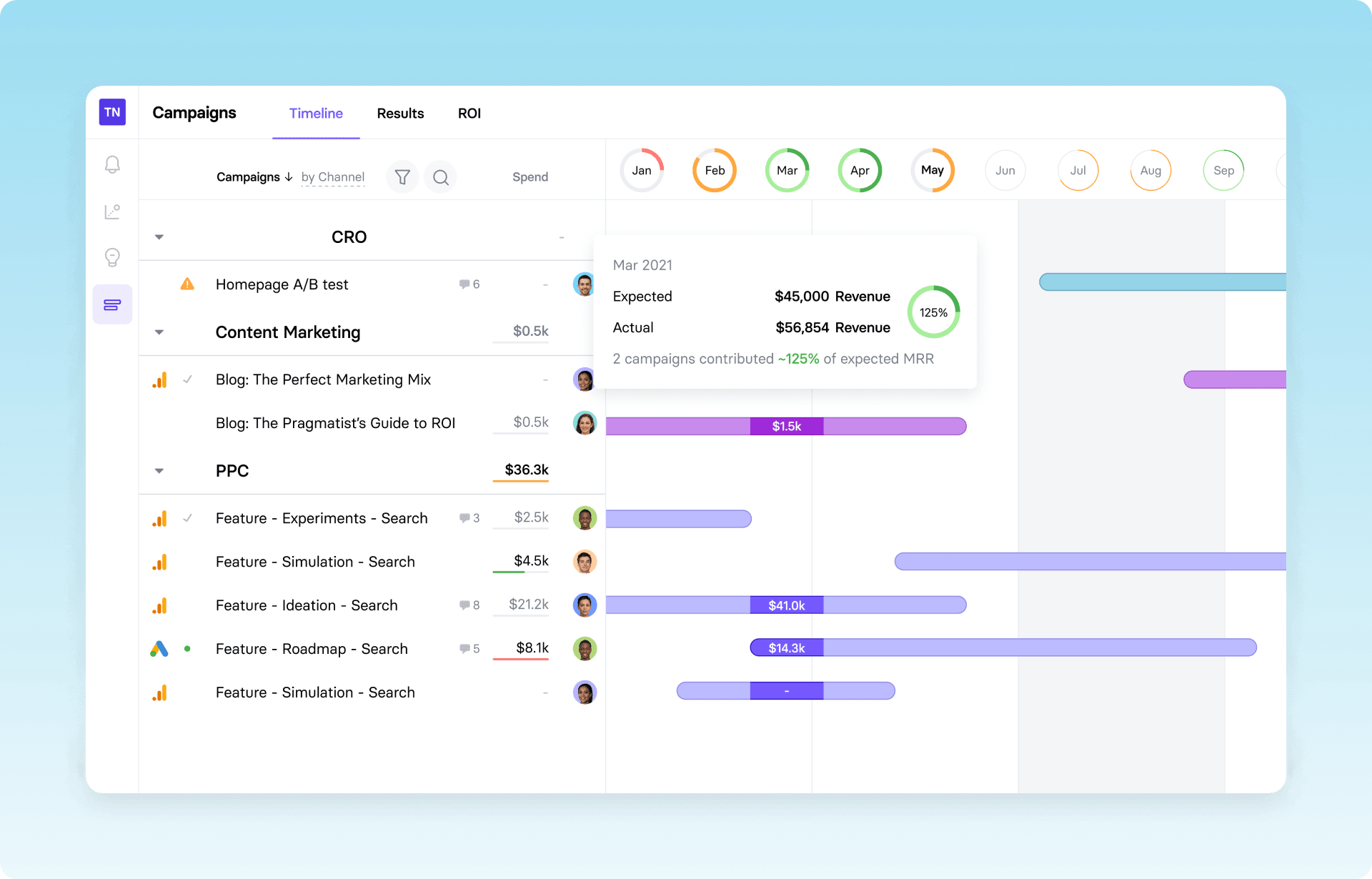 To create milestones, you need to have a system in place to track your progress correctly. If you can't track your progress toward your end goal, then the goal isn't worth setting.
Final notes
Traditional marketing planning involves "set it and forget it" strategies that burn through your marketing budget and hope for the best. Conversely, data-driven marketing planning involves shaping a strategy, testing experiments quickly, and failing fast to quickly zero in on what works.
This is where tools like TrueNorth help. It helps you to focus, align, plan, and track marketing in one place, with everything and everyone working towards your goal.
Guide your team in the right direction.
Collect and prioritise ideas to scale effectively.
Plan, test, and measure in one place to move fast.
Capture insights to improve decision making as you go.
Interested to give it a try? Get a free trial here.