What's the secret to a thriving marketing function? Measuring performance.
No matter what you call them – OKRs, One Metric That Matters (OMTM), or North Star Metrics – every marketing team has to choose specific goals to aim for and decide how to track and measure them. After all, you can design the most detailed and exciting marketing campaign but, without specific goals in place, how can you know whether or not it's working?
In this article, we'll guide you through the most important OKRs to measure to improve marketing performance and prove your value to the rest of the business.
How to set good marketing OKRs
An OKR, as its name suggests, is made up of two elements:
Objectives – the desired outcome you want to achieve
Key results – the measurable markers which indicate when you've achieved those objectives
The objectives and key results (OKR) methodology is widely used by organisations of all sizes – including Google, Airbnb, The Gates Foundation, and even Bono of U2! – in the creation of marketing goals and the measurement of their impact.
Effectively a goal-setting framework, OKRs connect both upwards, downwards, and sideways, aligning the entire company and ensuring that marketing OKRs ladder up to deliver on company-wide objectives.
There are, of course, many different components to a marketing campaign, and various types of outcomes that must be measured to ensure you're delivering on your specific objectives. It stands to reason, then, that there are also many different types of marketing OKRs so that – whether your focus is on product, content, social, SEO, or any other form of marketing – you're better able to plan and measure the effectiveness of your activity.
Here are a few examples of some of the most common marketing OKRs, and how you can track and interpret them for the best possible outcomes.
Product marketing OKR examples
These relate to successfully growing your products and services, and their contribution to your company's revenue and reputation. Whether you're launching a new product, upgrading an existing one, or looking to gauge customer satisfaction, these OKRs should be built around both your offerings and your customers.
For example, if your objective was to clarify your product messaging around the release of a new product, your key measurable results could include:
Conducting 20 user-testing sessions to understand perception of the new product
Researching and implementing five new channels for content distribution
Running 15 different ads on Facebook and measuring performance
Testing the presentation of the new product with 10 users
Content marketing OKR examples
These are concerned with the creation, publishing, and distribution of your content. An example of a content marketing objective could be to attract new visitors to your site with a weekly newsletter. Key measurable results for this could include:
Creating a content strategy and outlining topics for the next six months
Increasing the number of newsletter subscribers by 1,000 over that period
Boosting the open rate of the newsletter by 10%
Increasing the click-through rate (CTR) by more than 5%
Social media marketing OKR examples
These goals emphasise your ability to grow brand awareness, and connect with existing and potential customers across Facebook, Twitter, Instagram, LinkedIn, or any other social channel on which your brand is present. For example, your objective might be to increase the size of your social media audience. Key measurable results here could include:
Increasing the number of followers on Facebook, Twitter, or Instagram by 10,000
Increasing the number of monthly views on YouTube by 2,000
Doubling the number of monthly sales leads from social media channels
SEO OKR examples
SEO has an important role in increasing an organisation's visibility. The OKRs for SEO marketing are therefore concerned with improving your company's rankings in search engine results pages (SERPs). One objective could be to improve your website's SEO rating, for which key measurable results might include:
Adding 100 new backlinks
Eliminate 100% of critical technical SEO issues
Achieving the number one place for your top five relevant keywords
Increasing organic traffic by 50%
Why are marketing OKRs so important?
According to Google, 89% of leading marketers use strategic metrics to measure the effectiveness of their campaigns. Some of the benefits of using metrics include:
Justifying marketing spend and overall budget allocations
Using data to support informed decision making
Understanding which channels work
In a nutshell, OKRs give you the ability to track your progress and measure your success as well as helping to communicate the value your department provides to the company as a whole.
All your OKRs, in one place
Whatever marketing tactics you use, there are OKRs to suit. It's important, though, when setting your objectives, to ensure sure they're ambitious, transparent, and motivating. There's no need to get into granular details – leave those for the planning process. What you need are the headlines that your marketing team can strive toward. Make sure they're measurable and – most importantly – tangible. The whole purpose of an OKR is to serve as a milestone marker that will help you achieve your overall goal.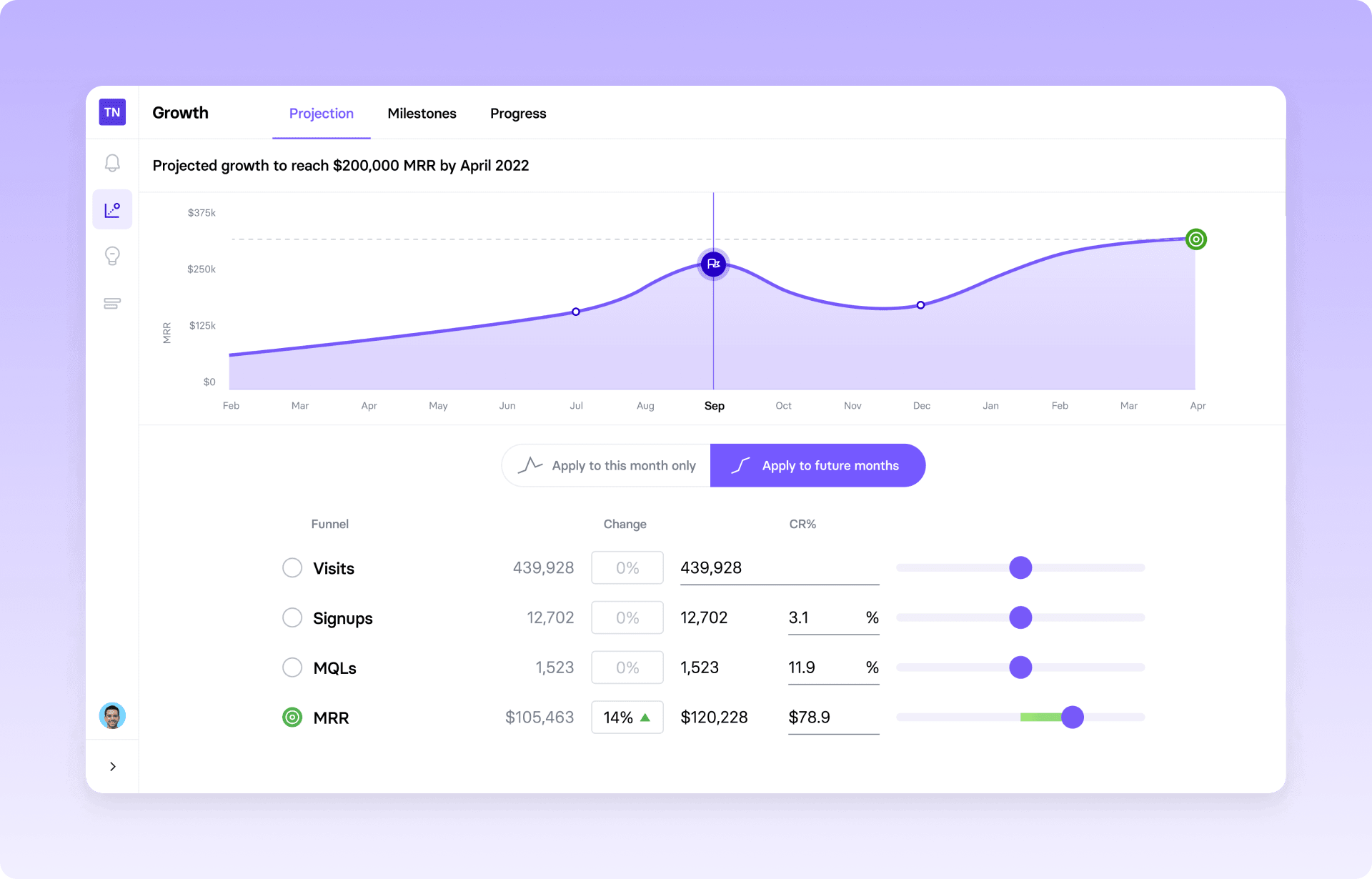 To this end, it's crucial that you're able to track them effectively. This can be done using a spreadsheet, of course, or using a performance management system. But with so many moving parts in play, it's far more efficient – not to mention insightful – to use a centralised resource, from which you can follow the progress of your OKRs at every stage from conception through tracking and analysis to reporting.
This is part of the rationale behind the creation of TrueNorth – the centralisation of everything a marketing team needs to know where it's aiming, how it'll get there, and how it performed on that journey.
OKRs are an important part of a successful marketing strategy. Once you've decided which OKRs matter most to you, and the results you'll use to measure your efforts, TrueNorth is there to help you manage all your marketing activities, and achieve all your goals – in one place.
To see for yourself how TrueNorth can help you track your own OKRs, start a trial here.