For many marketing leaders – especially from high growth technology businesses – managing marketing at pace can be tricky. To make matters worse, most are still using manual spreadsheets at some point in their marketing process, leading to inaccuracies and confusion.
From marketing ideation to revenue growth stands an ocean of challenges:
Aligning goals across multiple departments
Projecting and forecasting revenue growth
Tracking goals across all channels
Reporting, analytics, and evaluation
One solution to solve all these problems? A marketing management platform which tracks goal progress, centralises data from across all of your campaigns and coordinates ideas across teams.
But there's more to choosing and using a marketing management platform. Most marketers we speak to say the marketing management process they have in place needs improvement.
So, which tasks should a marketing management platform handle? What are the benefits of having a centralised dashboard to create, track and report on marketing objectives? And how do you evaluate the type of marketing software your business needs? This guide covers exactly that.
What is marketing management software
Today, marketing management requires a multi-dimensional system that touches nearly every facet of how marketing is managed, including:
Goals and objectives
KPIs
Marketing planning and ideation
Campaign planning and timelines
Tracking and evaluation
This is where marketing management software comes in. It is a tool or platform that tracks and projects marketing goals, centralises marketing ideas, and provides detailed insight and analysis on performance. It enables you to automate marketing management all in one place.
What to look for in a marketing management platform
Now that we know what one is, let's take a look at the most important features, capabilities, and tasks that a marketing management platform helps with.
Create and track marketing goals
An essential part of marketing management is setting clear, visible goals or OKRs. This will bottleneck your marketing function if you haven't set the right foundations for scalable growth.
A marketing management platform helps marketing teams manage, project, and meet marketing goals across multiple channels. With one you can:
Create and manage marketing goals across all channels
Understand which goals are on track and where you need to course correct
View performance data by channel
Create growth projections and track key milestones
As CEOs become more focused on marketing results, the ability for marketing leaders to forecast growth has become business critical.
A marketing management platform projects growth overtime and provides milestones to keep you on track and focused – providing vital data to report back to the C-Suite.
Collect and prioritise marketing ideas and experiments
Project management is a huge part of marketing. Collaborating virtually across teams is fundamental in today's working environment.
Marketing management software allows you to run ideation sessions with your team to collect and agree on ideas on how you'll deliver projected growth.
Plan your growth experiments
Growth experimentation is fundamental to a business' survival. A concrete growth strategy is a critical cog in the marketing machine.
A marketing management platform should allow you to plan, test, and measure marketing all in one place to move fast. Marketing works best when everyone can see what they're working towards.
Track your progress
You can move faster by planning and tracking your goals on one simple timeline.
Marketing management software should allow you to track all of your campaigns, ideally automatically via integrations with platforms like Google Analytics, Facebook ads, Hubspot, and whichever tools you use.
Automate the marketing management process
Modern marketing management platforms treat the complete marketing management process as an interconnected ecosystem, allowing marketing teams and key stakeholders to automate their processes from goal setting to campaign tracking.
"A marketing management platform receives and perceives information from all parts of the marketing management process, including goals, tactics, and key milestones. Some products even provide advanced growth projections to ensure you keep on track."

Marcus Taylor, CEO, TrueNorth
The benefits of a good marketing management platform
Now that you know what a marketing platform does, let's take a look at the advantages of using one as part of your marketing process.
Improve marketing accuracy
Managing marketing without clear sight of how you're progressing against goals is risky business. And managing marketing manually using spreadsheets makes you prone to human error.
Human error from manual processes is the root cause of marketing management issues. When manually entering data into simple spreadsheets, the probability of a human error is between 18% and 40%. Not only does this impact your ability to meet goals, but it doesn't sit well with the leadership team.
"The basic feature of a marketing management platform is to reduce manual and repetitive work. A marketing management platform offers automation wherever possible, from calculating goals to storing campaign ideas."

Marcus Taylor, CEO, TrueNorth
Organise and agree on ideas faster
While the quality of marketing ideas is of paramount importance, the speed in which you can make decisions is critical. The longer it takes to agree on plans, the longer it will take to see any results.
A marketing management system streamlines the marketing planning and ideation and stage, by allowing better collaboration and testing of hypotheses to see which ideas are more likely to impact on growth.
"A marketing management platform streamlines the planning and ideation process, resulting in faster, better, and more growth-focused marketing plans."

Marcus Taylor, CEO, TrueNorth
Meet goals and objectives
Marketing is all about goals. Without them, you have no way of knowing whether or not your campaign is working.
A marketing management platform helps marketing teams meet those goals. Some platforms even have built-in milestones to ensure teams are on track and on target.
Prevent a lack of transparency
The fastest way to misalign a team is to give people different information. The bi-product of marketing being siloed and insights being spread thinly across teams, tools, and spreadsheets, Trello boards, and dashboards.
Marketing management software helps marketing leaders combat this problem. All critical marketing information is held in one place, instead of a plethora of systems and spreadsheets.
The best marketing management software and tools
Are you convinced to implement a marketing management platform in your business? Whether you're searching for a new marketing management system or looking to replace existing tools, here are five great options to consider.
TrueNorth
TrueNorth is a marketing management platform for scaling companies. Marketing teams can set and project goals, collaborate on ideas, plan marketing campaigns, and track results in one place.
The best part? Marketing leaders using TrueNorth's marketing management software have the option to forecast growth and pivot based on real insights.
Then, when a campaign is activated, TrueNorth has integrations to automatically fetch the performance of your campaigns and then automatically convert the results into an ROI.
"Finally a marketing tool that combines forecasting, planning and reporting into one workflow. TrueNorth has helped us understand how to move the needle on our growth, whilst aligning both junior and experienced marketers in the same direction."

Matthew Wheeler, CEO of Driftrock
Wrike is a project management tool often used by teams that want to centralise task management. The system provides all the information you'd expect from a project management tool including the ability to organise folders, spaces, and projects.
One of the best parts about Wrike is that it gives you the ability to prioritise incoming requests. As a result, it's great for huge teams and large enterprises. However, as it's a first and foremost, a project management tool, it hasn't been built exclusively for marketers and lacks the goal and growth projection capabilities of other tools. It's also not that user friendly, especially for beginners.
Missing features:
Cannot plan, test, and measure in one place
Cannot automate marketing growth goals
Cannot integrate with common marketing tools such as GA, FaceBook ads, and Hubspot.
Cannot add multiple assignees
Monday.com is one of the most well-known project management tools. The system has a fairly steep learning curve, but can be a great tool for marketing agencies that want to collaborate directly with clients. While collaboration is excellent, it isn't easy to plan campaigns like you would on a timeline. You'd still need to use something like Excel or Google Sheets to plan out campaigns.
Missing features:
Cannot plan, test and measure in one place
No option to add and track marketing goals
Doesn't integrate with your key marketing tech stack
Asana is a dynamic project management tool used by companies all over the globe. One of the best features is its intuitive user interface. It's simple and easy to use.
While it has loads of integrations such as Slack, Google Calendar, it doesn't integrate with your typical marketing tech stack, such as Hubspot and GA. Project team members will also find it hard to collaborate over a plan.
Missing features:
Cannot plan, test and measure in one place
No option to add and track goals
Cannot project growth plans
Cannot assign multiple assignees to a task
In comparison to Asana, Trello is a much simpler project management tool. Known for its iconic cards, Trello works like supercharged sticky notes.
Just like sticky notes, they're handy for basic planning, but if you're looking for something more comprehensive, you might want to look elsewhere.
Missing features:
Cannot plan, test and measure in one place
No option to add and track goals
Cannot project growth plans
Cannot manage complicated projects
Final checklist when choosing marketing management software
There are a lot of factors that you should consider when choosing the right marketing software, both in terms of the functionality and what it integrates with.
Compile a list of four to five vendors to evaluate. Reach out to each supplier to arrange a demo or trial of their product. Through this process, run each vendor through this final checklist to confirm you're making the right decision:
Do they provide goal planning, projection, and forecasting?
Do they allow you to eliminate manual processes – like goal setting – through workflow automation?
Do they allow you to integrate results from your marketing tech stack such as Google Analytics, FaceBook ads, and Twitter ads?
Do they provide real time tracking updates?
Is the platform stagnant or continually adding new features?
The right marketing management platform for your business ticks as many of those boxes as possible.
Why TrueNorth is the best marketing management software
We all know the importance of ensuring marketing objectives are created, projected, and tracked in as little time as possible. Yet many marketing teams still use a tactical approach to marketing.
Most tools used for marketing management focus on managing tasks, leaving many marketing teams still relying on a mix of Google sheets, project management tools, and manual processes.
It's all well and good to see tasks inside one central location. But an essential part of marketing management is projecting whether you're actually generating revenue – and if so, where/how you can zone-in on making more.
To move fast and stay aligned as a marketing team, you should strive to have every part of your marketing strategy in one place – that includes your goals, your projection of how you'll get there, your plan, and your results.
That's why TrueNorth focuses on the most important thing; Your marketing objectives.
TrueNorth is built for marketing teams. Most alternatives are generic or primarily built for software development/product teams. Unlike other tools, which are disconnected from your strategy, TrueNorth is built around the most important thing – working towards your marketing objectives.
Guide your team in the right direction
Marketing works best when everyone can see what they're working towards, this allows you to project growth and align your team and marketing with the same big picture goal.
TrueNorth enables you to:
Visualise your growth strategy
Model different scenarios to stress-test your strategy
Compare your actual growth to make corrections sooner
Collect and prioritise ideas
With the direction now set. Now is the time to ideate how you'll deliver projected growth. Streamline how you decide which ideas to move forward.
TrueNorth enables you to:
Collect ideas remotely and asynchronously
Focus on the ideas that'll move the needle
Run experiments accountably and measurably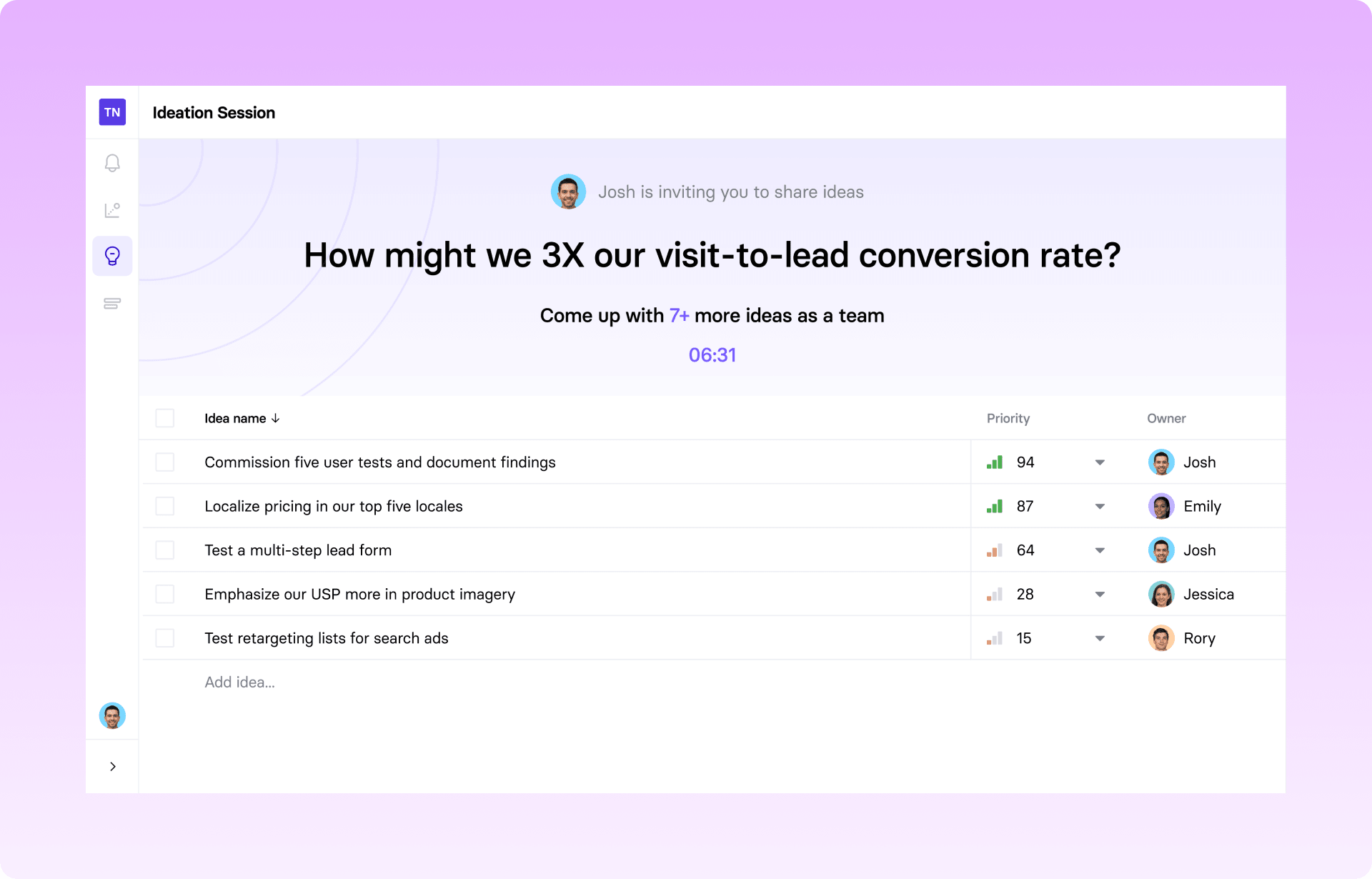 Plan, test and measure in one place
Move faster by planning and tracking marketing against your goal on one simple timeline. You'll never go back to messy spreadsheets or project boards again!
TrueNorth enables you to:
Easily plan and measure marketing in one place
See the expected ROI and goal impact of every campaign
Track results and budget without jumping between tools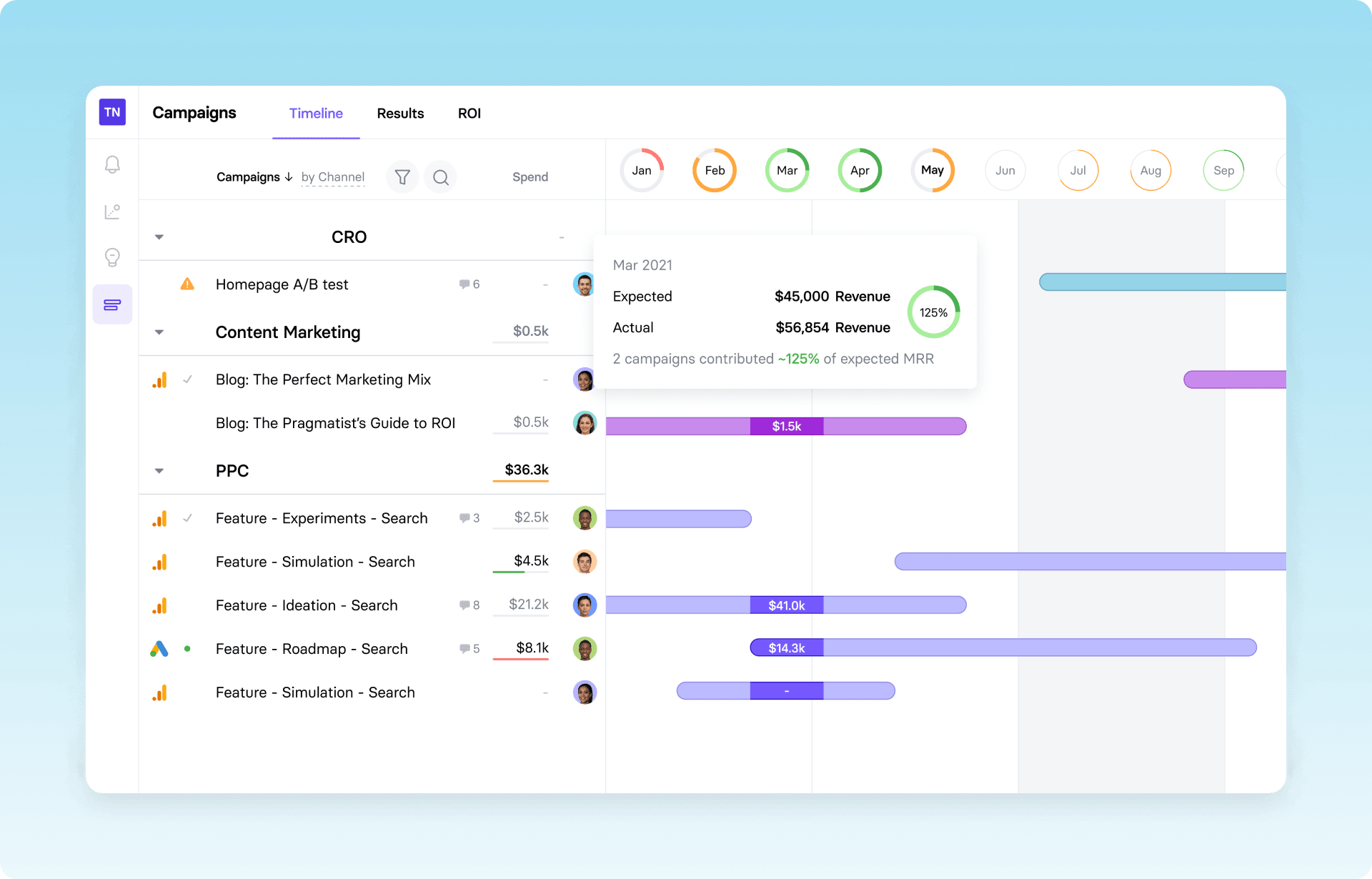 Create your marketing goals. Then hit them.
As a marketer, you need to set the right goals, project results, and run marketing campaigns at scale, while testing and learning as you go. While you technically could use a jumble of spreadsheets and project boards, this is a false economy.
This makes collaboration difficult, slows teams down and shifts marketing to being task-focused, rather than being task-agnostic but laser-focused on the goal.
TrueNorth is the first marketing management platform built for marketers to help them better plan their marketing goals. Then hit them.