Scaling your marketing programme comes with growing pains. It's not easy to handle a surge in new channels, campaigns, and media. But, marketing planning tools exist to make the planning process easier.
The marketing planning tool market has a number of providers that provide specific tools for each part of the marketing planning process, such as content, project/task management, mind mapping, and marketing management – yet very few offer all the elements needed for the entire marketing planning process.
That's why selecting the right marketing planning tool is important.
This article will help you to quickly compare and evaluate 22 of the best marketing planning software and other marketing management tools.
Types of marketing planning tools
In the next section, we breakdown the key marketing planning tools, providing a snapshot overview and the pros and cons of each.
The difference between marketing planning tools
Marketing planning tools can be broadly broken down into four key areas:
Project/task management tools
Content management tools
Mapping tools
Marketing management tools
Psst… We didn't want to blow our own trumpets too much so we've featured TrueNorth's marketing planning platform towards the end of the article (you can skip ahead here if you'd like).
But first, here's a handpicked selection of the main marketing planning tools, broken down by the above key areas. Let's start with the main project/task management tools.
Project/Task management tools
There are hundreds of task management tools out there on the market, and it's challenging to choose one that aligns to your needs.
Here's a selection of the main task management tools used by marketing teams.
Monday.com allows you to share and work with your whole team and save time by only recording the most important documents and conversations.
Key features
Monday.com is designed around 'pulses' which can be used to plan and track, and collaborate on projects.
Pros and cons
While it comes packed with useful project management features, it has a fairly steep learning curve and requires you to take time to set-up the system in a way that works for you. There is no calendar view, which makes it hard to plot out campaigns, and means you still require a Google Sheet, or calendar tool of some kind.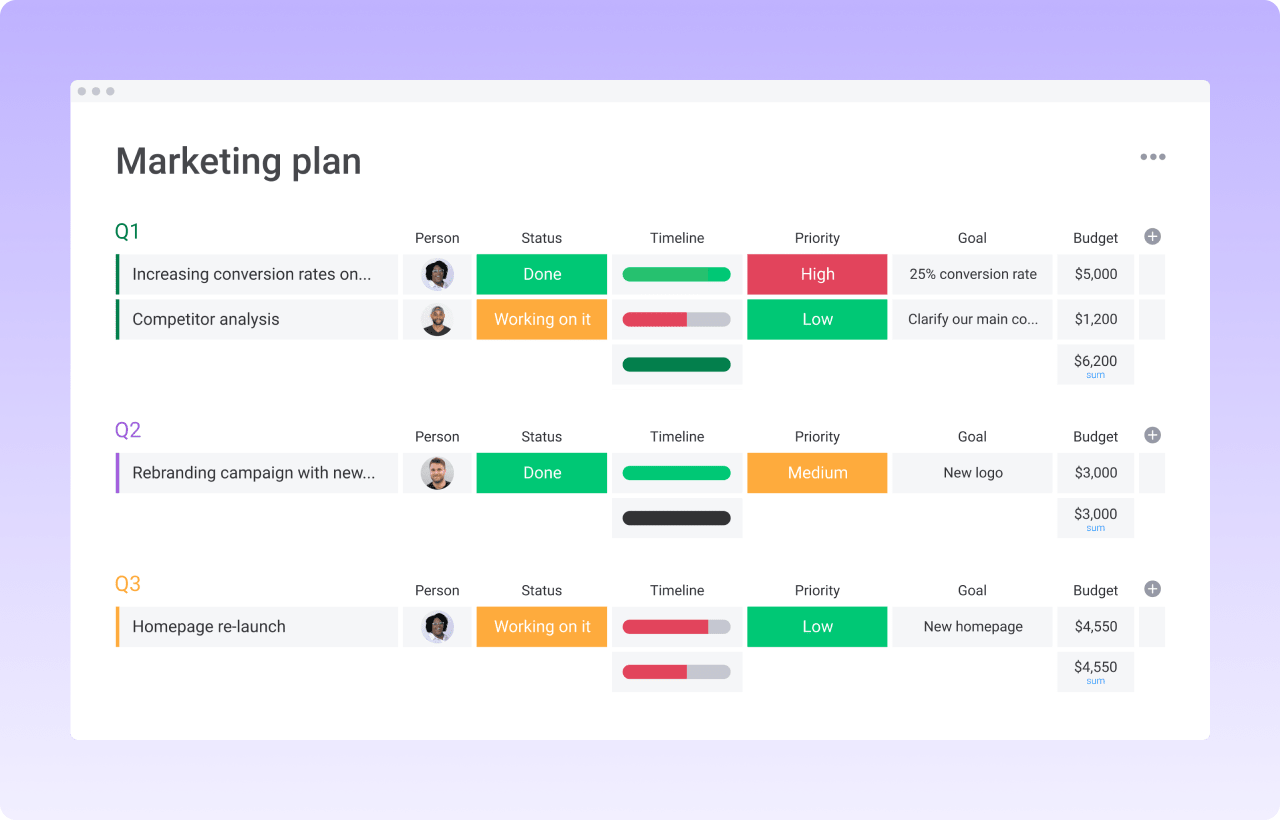 Trello is an online kanban tool – visualising the entire project in just one single view.
Key features
Trello is a fairly basic tool, where you can make cards and move them around on a board.
Pros and cons
While Trello offers a free package (with unlimited boards, lists, and cards), the tool might be a little basic for experienced marketing teams that need to see marketing plans in a timeline, and create and track goals with real-time data.
Asana offers tasks, projects, conversations and dashboards to keep work organised.
Key features
Asana also offers Team Pages where ideas and conversations are shared for all to see as well as a 'Smart Box' where team members receive only important project updates rather than all messages back and forth. It can be integrated with a large number of other systems.
Pros and cons
Asana looks great for capturing your team's ideas in one shared space. It's drawbacks include the inability to set and track goals, and see key milestones.
4. Marmind
Marmind is a collaborative planning tool.
Key features
With Marmind, you can plan campaigns, optimise budgets, collaborate with teams, and perform basic marketing analysis.
Pros and cons
While Marmind has many of the features beneficial to marketing teams, it doesn't allow you to create and track goals.
Wrike is a cloud-based collaboration and project management tool.
Key features
Wrike helps its users to keep track of day-to-day operations and ensures that projects are finished within a certain time frame and predetermined cost.
Pros and cons
Wrike can be integrated with other business tools such as Google Apps, Microsoft Excel and DropBox – but doesn't pull in data from your key marketing tech stack, such as FaceBook ads, and Hubspot.
6. BrandMaker
BrandMaker brings together planning, budgeting, and workflow management.
Key features
It's aimed at large enterprises with large marketing budgets.
Pros and cons
Includes timelines for planning campaigns, a handy budget management dashboard, and can store digital assets, but it's primary focus is workflow management for large enterprises. While the tools look comprehensive, it isn't focused on goals and lacks the ability to set milestones and see whether a company is going to meet its goals.
7. Mymarketingmate
Mymarketingmate provides the ability to create your own marketing plan or buy ready-made plans.
Key features
Basic marketing planning and collaboration features.
Pros and cons
Great for inexperienced marketers that need walking through the marketing planning process from start to finish. But less useful for experienced marketing teams.
8. Screendragon
Screendragon is a planning software tool aimed at digital marketing agencies.
Key features
Screendragon provides centralised communication and advanced notifications to keep projects moving.
Pros and cons
The workflow management tool is aimed at enterprise teams and large agencies and has been designed to integrate into enterprise systems. However, it's aimed more at project management rather than the marketing planning process.
ClickUp is a workflow/task management software tool aimed at small companies.
Key features
ClickUp is built for smaller businesses, and allows teams to collaborate on projects, manage and assign tasks, and plan timelines.
Pros and cons
ClickUp has a really intuitive interface, however it's a fairly generic tool. It hasn't been created for marketing teams, and therefore lacks some of the features a marketing team might need.
10. Basecamp
Basecamp is a very popular project management tool.
Key features
This tool offers several different collaboration features such as a designated discussion area where users can leave behind comments. Additionally a recap of the projects your team is working (e.g. statuses and updates) is sent out on a daily basis to your email.
Pros and cons
It has an excellent search tool to find files and conversations. Some shortcomings however, include the lack of milestones and customisation options.
Content management tools
With the explosion in content over the last year, there are a few dedicated content marketing tools available on the market.
Here's a quick overview of the main content management tools:
11. ContentCal
ContentCal helps streamline content marketing planning and processes.
Key features
ContentCal is one of the biggest dedicated content planning tools, it allows users to collaborate, plan, and publish content directly from the tool.
Pros and cons
It's an easy to use and highly visual tool that anyone can grasp. It integrates with the key marketing channels to allow scheduling from one dashboard. However, as it's built for content management, it therefore doesn't allow you to plan your entire marketing strategy in one place. You'd still need to use additional tools for that.
CoSchedule is a marketing tool for planning and posting to different accounts
Key features
The editorial calendar is specifically designed as a content planning tool.
Pros and cons
Colour-coding makes it easy to see what's happening at a glance. And it's really useful for managing social media – although you do still need to go into some social platforms directly to add @mentions to posts. And again, it has a very specific purpose, so won't really help with planning marketing goals.
13. Contentful
Contentful is an API-first content platform that helps you manage content.
Key features
Contentful allows custom workflows and integrates well with other services.
Pros and cons
The API integration feature is really useful, but overall its features are limited. It doesn't offer any kind of goal planning or tracking, and you can find yourself easily getting lost with workflows.
14. Notion
Notion is a workspace collaboration tool
Key features
While not strictly built for content marketing a lot of small businesses use this due to the free features.
Pros and cons
Notion is a good basic free tool to plan content. However, Notion's 'boards' can become a bit cluttered if you store too much information in one place. It's not particularly intuitive, and requires a bit of a learning curve to use effectively.
15. Percolate by Seismic
Percolate is an enterprise marketing planning platform to reduce administrative tasks and keep up with content demands for growing enterprises.
Key features
It provides in depth workflow planning for very large enterprises and agencies.
Pros and cons
Great for large enterprises with complex workflows and high volumes of content, task management, and stakeholder management. But it isn't goal focused, and has no ability to forecast and project goals.
16. Visually
Visually helps brands to plan and optimise content.
Key features
The tool helps teams create and manage different types of content, from interactive ebooks to videos.
Pros and cons
Visually, not only allows you to collaborate on content, but also provides the resources to create content by matching brands to over 1000 freelancers. It is fairly basic though, and is probably aimed at more junior marketing teams.
17. Runrun.it
Runrun.it is a complete solution for managing tasks, projects, and workflows.
Key features
It allows you to distribute tasks according to the capacity of your team – great for agencies. And provides a Gantt view to determine whether or not a person has availability for new demands.
Pros and cons
Runrun.it is a very niche tool focused on tasks and workflow management. While it does this very well, you'd still need additional spreadsheets and tools to work alongside it. There's no ability to create, manage, and track goals, and it lacks integrations such as your key martech stack.
Mind mapping tools
When used correctly, mind mapping tools can be a powerful way to plan nurture sequences, create website wireframes, and even create personas. Here are some of the key mind mapping tools used by marketers and agencies.
18. MarketPlan.io
MarketPlan.io is a highly visual mapping tool.
Key features
MarketPlan.io has 10 modules allowing you to build maps, funnels, and user journeys for campaigns, including email sequences, webpages, and blog plans.
Pros and cons:
MarketPlan looks accessible and easy to use, however it doesn't allow you to see a timeline view to plot campaigns across the year or quarter. It also doesn't have much in the way of collaboration tools, or task management.
19. Miro
Miro is essentially an online whiteboard tool.
Key features
Miro provides tools to create mind maps, campaign workflows, and even website wireframes.
Pros and cons
It's website wireframing is used by some of the top agencies for web development, and it's process maps are a great way to plan out complicated campaign workflows. It's main drawback is that it's a very niche tool, and only takes care of a small part of the marketing planning process.
Marketing management tools
While there are a plethora of task management tools, there's only a few tools which specifically focus on marketing management. Here's a quick review of the main marketing management software tools.
20. TrueNorth
TrueNorth is designed to help you focus, align, and tracking marketing in one single platform so you don't have to manage multiple platforms and sheets.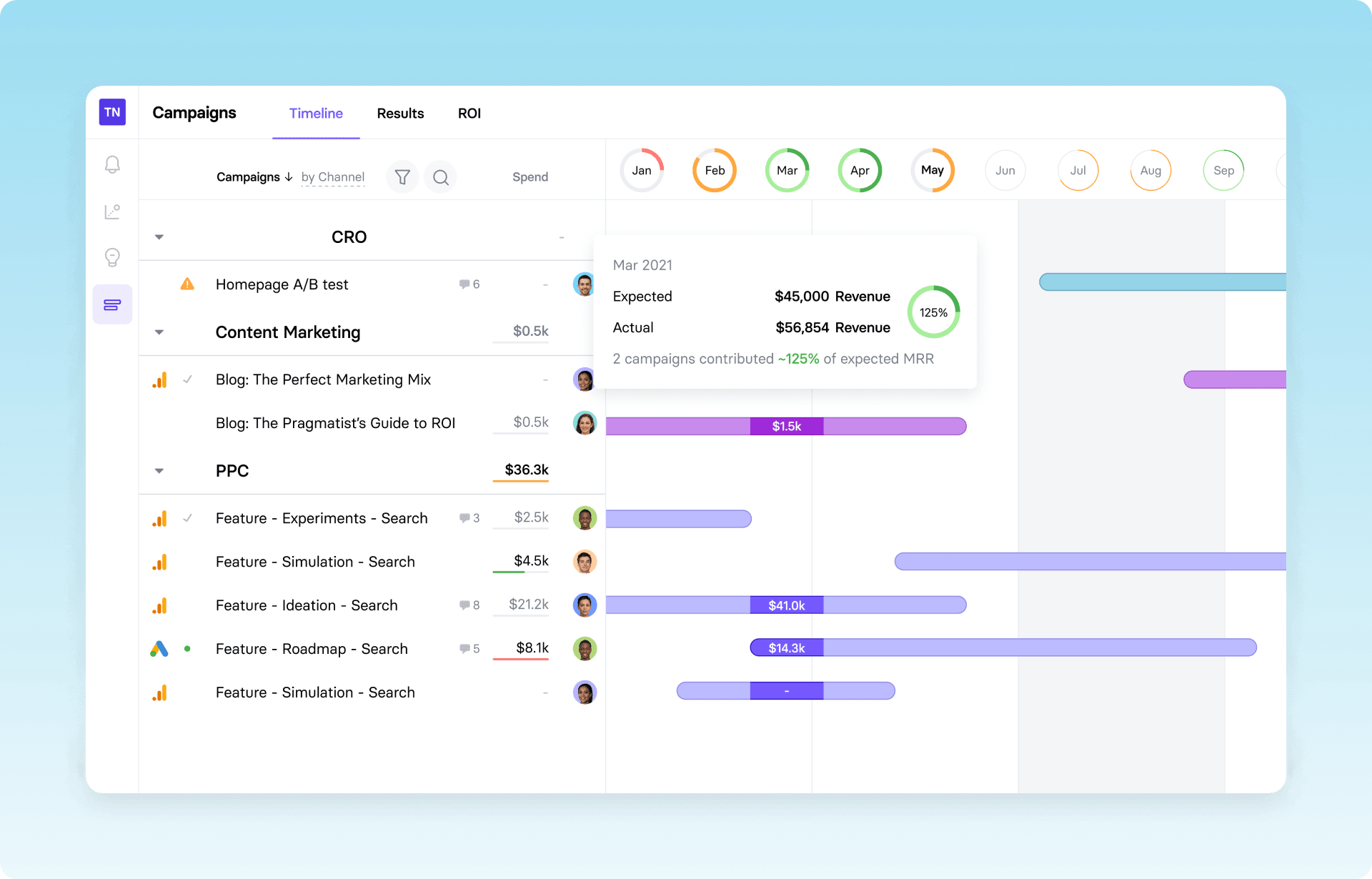 Key features
Unlike other tools, which are disconnected from your strategy, TrueNorth is built around the most important thing – working towards your marketing objectives.
With TrueNorth, marketing teams move faster and stay aligned – even when everyone's remote.
Pros and cons:
Unlike other tools, TrueNorth allows you to visualise your growth strategy, model different scenarios and compare actual growth to make corrections sooner.
Powerful collaboration tools allow users to streamline how to decide which ideas to move forward, focusing your team on goals that'll move the needle.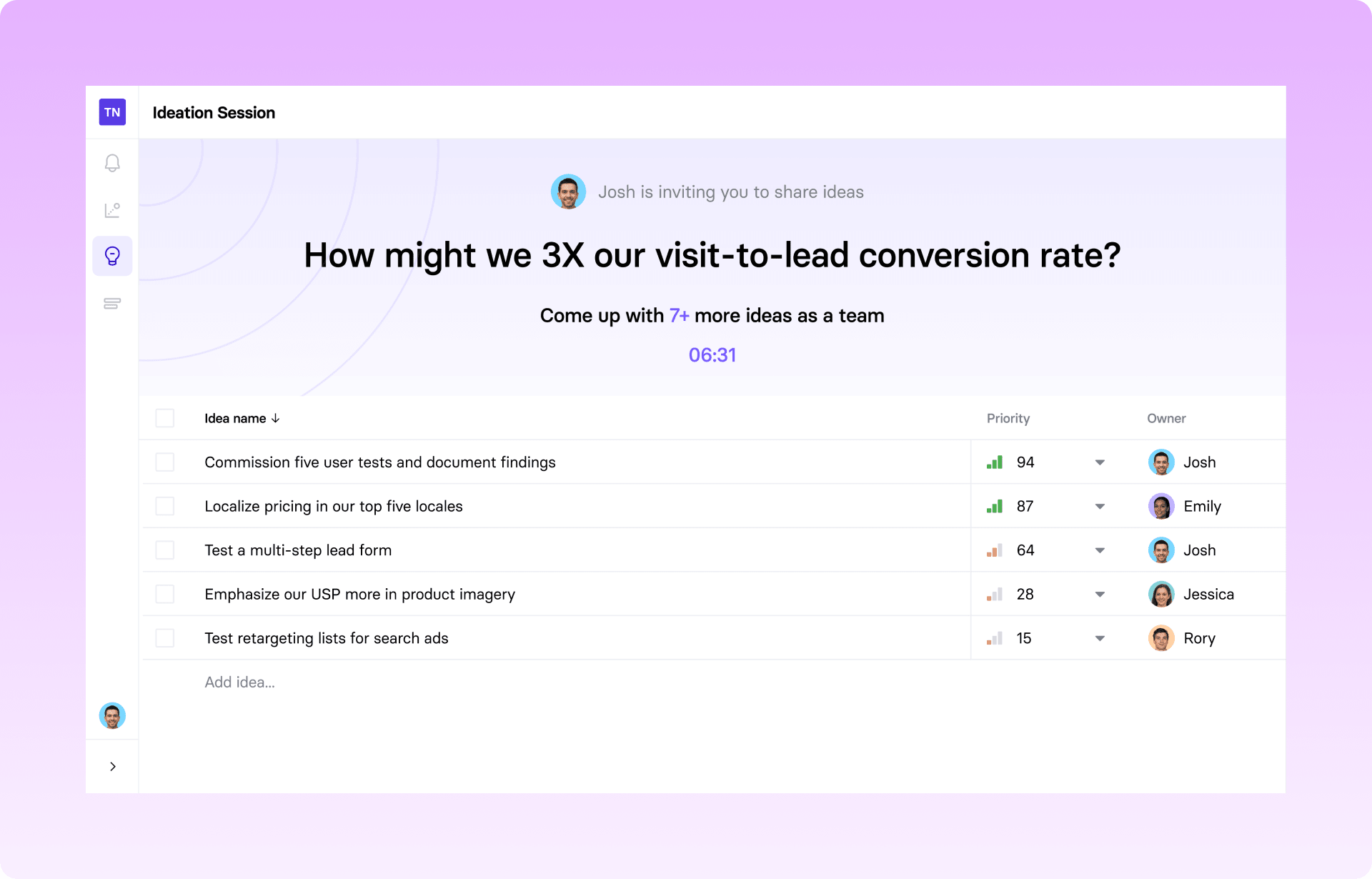 TrueNorth allows you to easily plan and measure marketing in one place. You can even see the expected ROI and goal impact of every campaign.
21. Mediatool
Mediatool is media management tool for advertisers
Key features
Aimed at advertisers, rather than marketers, Mediatool, integrates data from media ad campaigns into one place.
Pros and cons
It allows collaboration, and has a long list of integrations, however it doesn't have the ability to set and track goals.
22. Google Sheets
Google Sheets is part of Google's suit of productivity and collaboration tools
Key features
Probably the most used tool overall, Google Sheets is a free and easy way to plan marketing campaigns. It allows you to share and work on spreadsheets with others.
Pros and cons
Google Sheets allows you to use similar functions to Microsoft Excel, to create content calendars and more. Although you can access some free templates, Google Sheets is dependent on your own ability to work with data and spreadsheets. It's also not the most secure way of sharing plans, and could easily be accidentally shared or deleted.
Which marketing planning tool is right for your business?
A good marketing planning tool is worth its weight in gold. Goal-oriented planning and brilliant virtual collaboration equal effective campaigns. But there is a lot of behind-the-scenes work that goes into marketing planning. Planning channels requires the use of timelines. Plotting paid media requires a dashboard with all marketing in one place. Reporting on results requires all your data in one place.
As we've seen from the list, there are plenty of tools that focus on specific aspects of the marketing planning process. However, what most marketing planning tools lack is a focus on goals… and they're not often built specifically for marketers.
Ideas are siloed in spreadsheets, project boards, and docs, making it hard to be data-driven and organised.
Yet for marketers, spending time wisely means knowing what goals to prioritise and making sure you're on track. Though that can be a hard nut to crack when all your marketing planning tools focus on just a few aspects.
That's why it's so important to thoroughly evaluate marketing planning tools, and to choose the right one that meets your needs.
This is exactly why we created TrueNorth – a growth marketing platform to focus, align, and track marketing in one place, with everything and everyone working towards your goal. Take a look here.
Final checklist to help you choose the best marketing planning tool
What key features do you need to look out for when selecting the best marketing planning tool:
User interface: Is the interface and dashboards clean and clear?
Usability: Is it easy to use, or is there a steep learning curve? Does the tool offer good tech support and troubleshooting?
Key functionality:
1. Collaborative planning: Marketing teams must be completely in-sync – does the tool offer effective ways to collaborate on ideation, goal setting, and marketing planning?
2. Real-time data: Does the marketing planning tool provide dashboards based on real-time data, so that the entire team can see what's happening at any point in time?
3. Marketing plan templates – Does it offer quick-start templates or timelines?
Integrations: Is it easy to connect with your entire marketing tech stack, including Google Analytics, FaceBook ads, and even Hubspot?
Value: Is the cost for the platform appropriate for the features, capabilities, and key functionality?
All-in-one tool: Can the tool effectively replace a plethora of spreadsheets, project management tools, and even meetings?
In summary
Marketing planning tools reduce the amount of time you spend on tedious tasks in the planning stages of marketing campaigns and activities.
Eliminating the hassle of juggling all your tasks manually, allowing you to streamline and automate your marketing planning process.
Don't put up with a bad fit.
If you're using a marketing planning tool that doesn't work for all your needs, causes complications, or offers to fix only one part of the marketing planning process, you don't need to grin and bear it.
There are better options out there.