Before any business can determine its future budgets and upcoming marketing campaigns, it must be able to predict its potential revenue.
The best way to achieve this is with forecasting. A marketing forecast is an analysis that aims to predict your future sales numbers and growth, based on your current funnel metrics and marketing performance.
It provides an opportunity for your company to determine the marketing channels that are expected to generate the most leads, based on data-driven market research and analysis. It should take into account where your current prospects and leads are in the buying cycle, to predict future numbers and outcomes. This will allow your company to direct future marketing strategies towards the areas that are anticipated to generate the most revenue.
Why is a Marketing Forecast Important?
A marketing forecast is like the foundations of a house. You may not see it every day but it supports everything visible, and without it your marketing is structurally compromised and likely to end up wasting prescious resources.
Here are some of the main reasons why you should invest the time to create a marketing forecast:
1. Spend your budget smarter
Your marketing forecast provides a clear set of targets – how much you can profitably spend on a visit, lead, or sale. This helps rule out channels, identify new ones and ultimately allocate budget in a way that minimises risks and returns the best possible ROI.
2. Identify potential marketing problems early
Accurate forecasting allows you to build strategies to overcome potential problems before you encounter them. Is your target market ageing and do you need to find ways to market your product to a younger generation? Is your industry about to get hit with a new marketing regulation that may impact the way you are allowed to advertise your services? A marketing forecast will reveal these potential pitfalls, and you can build solutions while you still have time.
3. Encourage company growth
Without a marketing forecast, it can be difficult to determine the direction your business should take to achieve an optimal rate of growth. Predicting future market developments puts you in the best position to ride these trends and increase your revenue. Foregoing a marketing forecast may lead your company to stagnate without any clear path forward.
What Data Do You Need for an Accurate Marketing Forecast?
An important to note that a marketing forecast will never be perfectly accurate – and this isn't our aim. The purpose of a marketing forecast is to be a useful aid in our decision making, not a crystal ball.
The point at which a marketing forecast is useful is when it credibly reflects the path from where you are right now to where you want to be, factoring in any predictable changes along the way.
With this in mind, you'll need the following data:
Metrics for each step of your funnel (e.g. visits, leads, sales, revenue)
Your goal (both the metric and when it needs to be achieved by)
Any predictable changes that significantly affect your funnel (e.g. seasonality, promotions, events)
There are various forecasting methods and techniques explained here that you can use to turn this data into a forecast.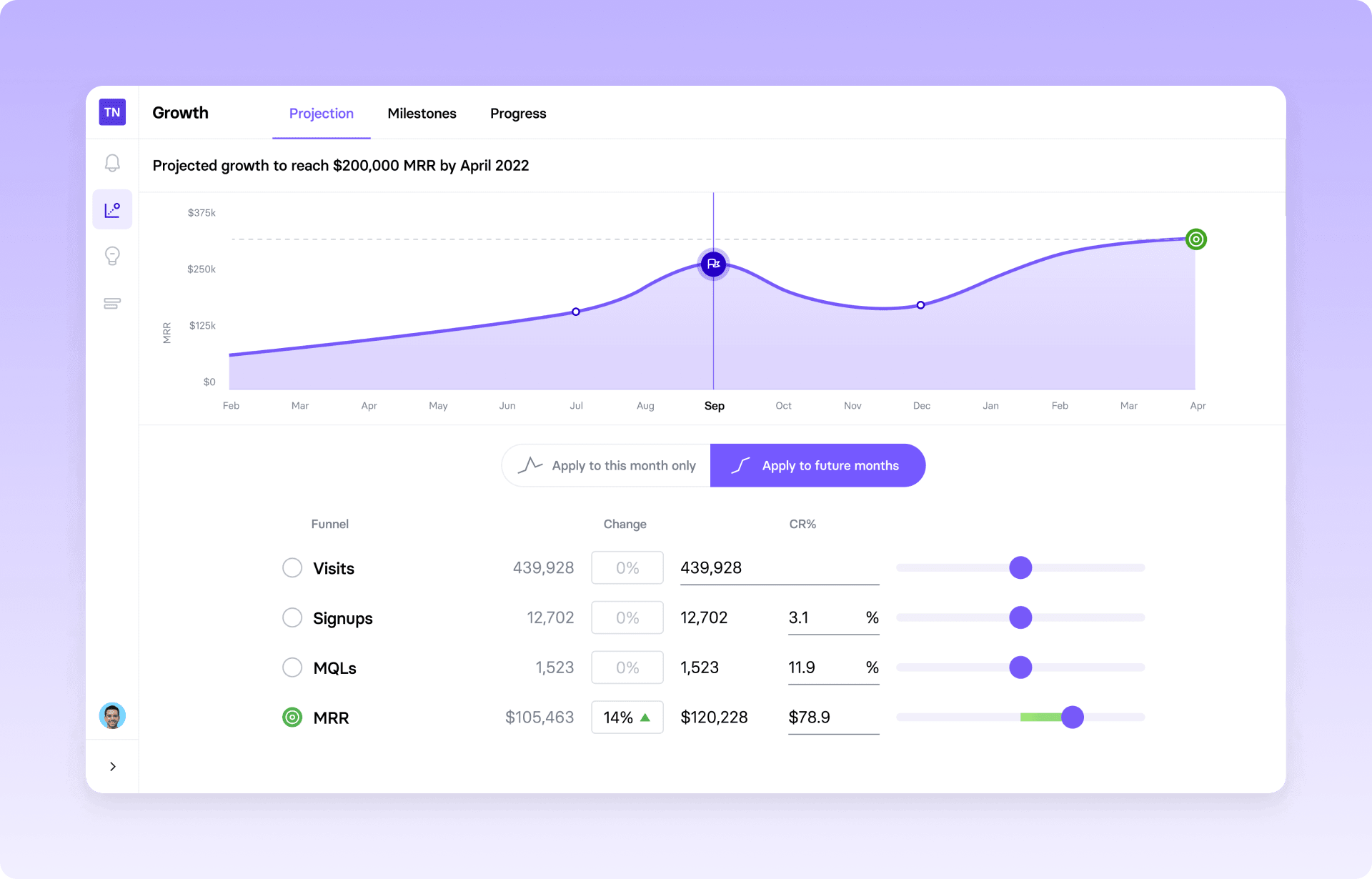 Marketing departments these days have so many data streams at their disposal, but it can be a wasted opportunity without the right analysis tool. You need the right tech stack in place to help you use this data to create the big picture. TrueNorth's growth projection feature compiles all your funnel data streams and does this for you.
What's a Marketing Forecast Used for?
You can apply marketing forecasts across your business in a number of ways as shown below.
1. Create realistic timelines and milestones
One outcome creating a marketing forecast is a set of monthly milestones that should be hit in order to stay on track with your goal. In TrueNorth, we show these forecast milestones clearly on your timeline so that you can ensure you have the right marketing activity planned to stay on track.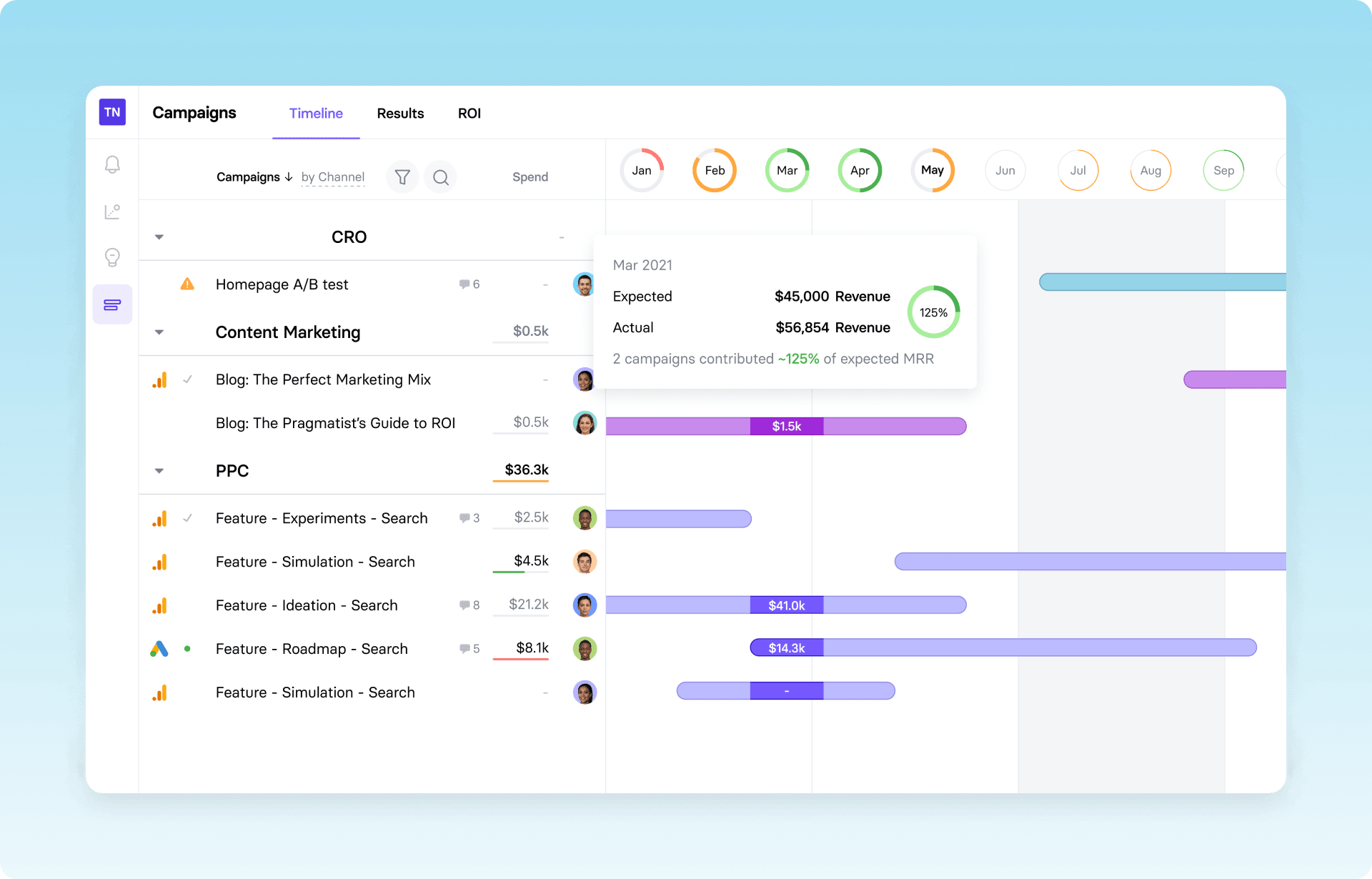 2. Plan targeted campaigns
Data-driven forecasts should identify the areas most likely to create growth. You can use this information to direct and target your marketing campaigns productively.
3. Stop, start and accelerate campaigns effectively
A marketing forecast may provide insight into possible marketing channels that your team may have overlooked or not tapped into effectively.
4. Track your progress against your forecast
When done right, a marketing forecast should be something you look back on. By tracking your actual progress against your forecast you can be proactive instead of reactive. You can address performance shortfalls early, and keep everyone aligned on the growth you intend to deliver.
And of course, by tracking this you're able to pivot your strategy earlier and signal the alarm before it's too late.
Your Marketing Forecast Should be Based in the Real World
Cold, hard marketing and growth data is indispensable, but there must be a human element. Sometimes external factors affect the markets in a way that has a knock-on effect on business growth. While these events may sometimes be unpredictable, most of the time there are signs and trends that you could be monitoring.
Here are a few ways to stay on top of market trends:
Network within your industry. Use social media and industry conferences to network with businesses working in the same field.
Monitor industry blogs and newsletters. Sign up to mailing lists to stay on top of changes and progress that may affect your business.
Communicate with your team. Make sure the line of communication with your team members is open. It allows the people who work directly with your customers to provide frequent market feedback.
Keep an eye on your competitors. Your competition is likely to have their finger on the pulse of the same industry. As such, they can provide some insight into the state of your market.
Sign up for Google alerts. You can use Google to alert you according to specific keywords related to your industry. If there are any sudden changes, you will find out quickly.
If you're looking for a tool that can analyse your marketing data from multiple sources, while providing insightful visualised projections, take a look at TrueNorth's growth projection feature.