Marketing forecasting allows you to anticipate the productivity of your marketing efforts. This might include how many leads a particular campaign will likely generate, or how much revenue those leads are expected to bring in.
These predictions are usually based on data from your business' existing and historic campaigns, which must be aggregated and analysed. Doing this manually would be extremely time-consuming, which isn't advisable with so many excellent marketing forecasting tools available today. The majority of modern marketing software enables you to pull information from different streams, cutting back on time wasted trying to collate data. If you integrate the right marketing forecasting tool into your business processes, your team will thank you.
But with so many options, we know it can be difficult to decide what tool is right for your business. We've put together a handy list featuring some of the best marketing forecasting tools on the market. All these tools provide detailed insights and have a high level of integration capabilities. As such, there's no need to abandon your current platforms, thanks to seamless integration opportunities with these tools.
Spreadsheet Tools
Excel
Microsoft Excel has grown to become a ubiquitous tool used by companies both large and small ever since it was released back in the late 80s. It still has over 750 million users worldwide, so it's not going anywhere any time soon.
Typically used to organise data in a spreadsheet format, it includes inbuilt functions that allow calculations based on data inputs. The calculator feature can be used for both simple maths and advanced calculations, allowing marketers to make ROI predictions among other simulations.
Google Sheets
Google Sheets is a spreadsheet application included in Google's workspace cloud platform. Similarly to Excel, you can input data into cells and use functions and formulas to make calculations. Since it's all stored in the cloud, you can easily share spreadsheets with team members who can edit them as needed. This allows real-time collaboration on single documents by up to 100 people.
Funnel Tools
TrueNorth
TrueNorth is a growth marketing management platform that connects all of your marketing activity back to your goal – and forecast. The major advantage of TrueNorth above the other tools in this roundup is that it keeps your forecasted growth milestones front and center while planning your campaigns.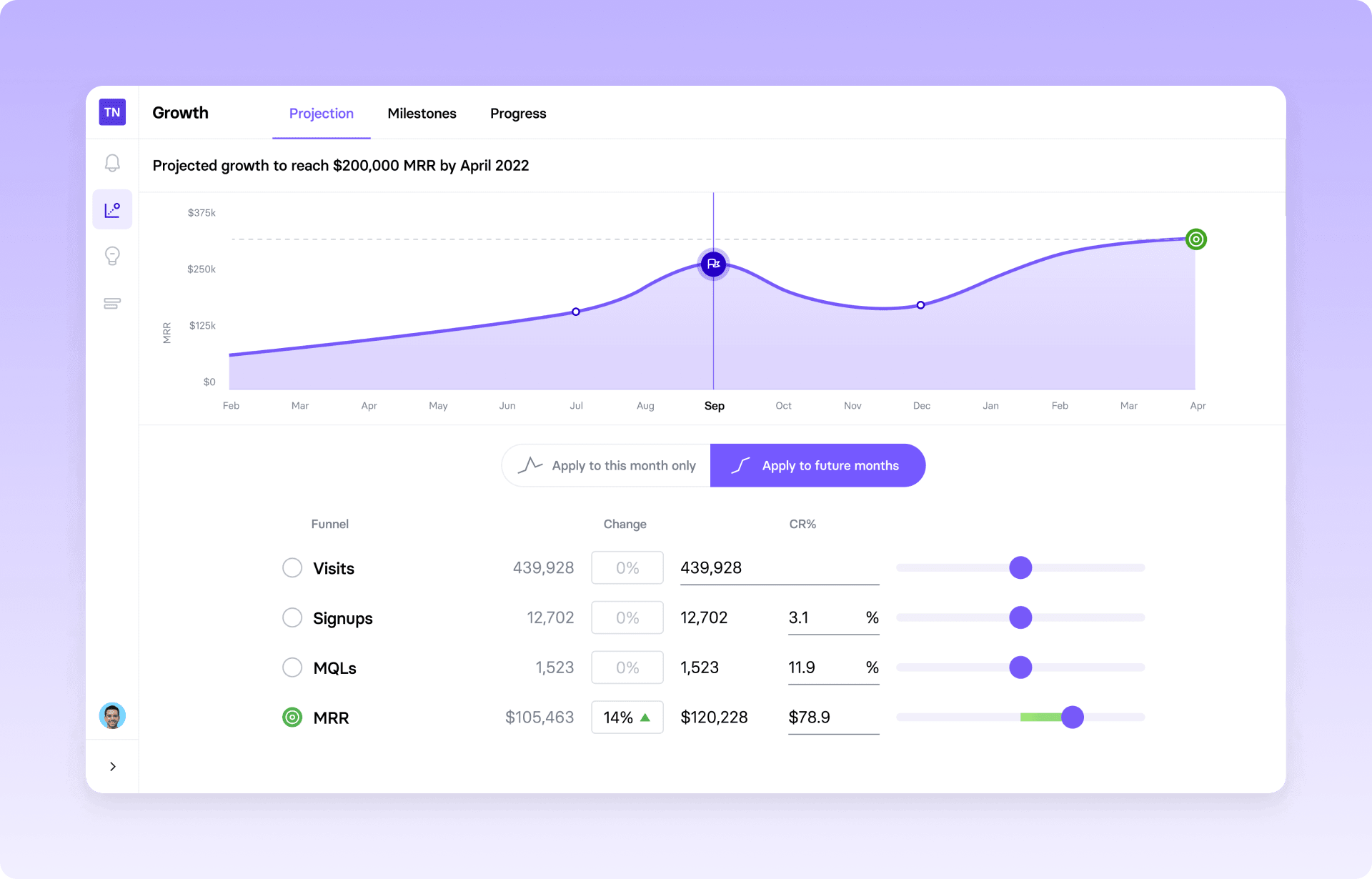 After connecting your funnel data, TrueNorth produces a visual growth forecast which is then broken down into monthly milestones that helps your team stay on track and see what they're working towards.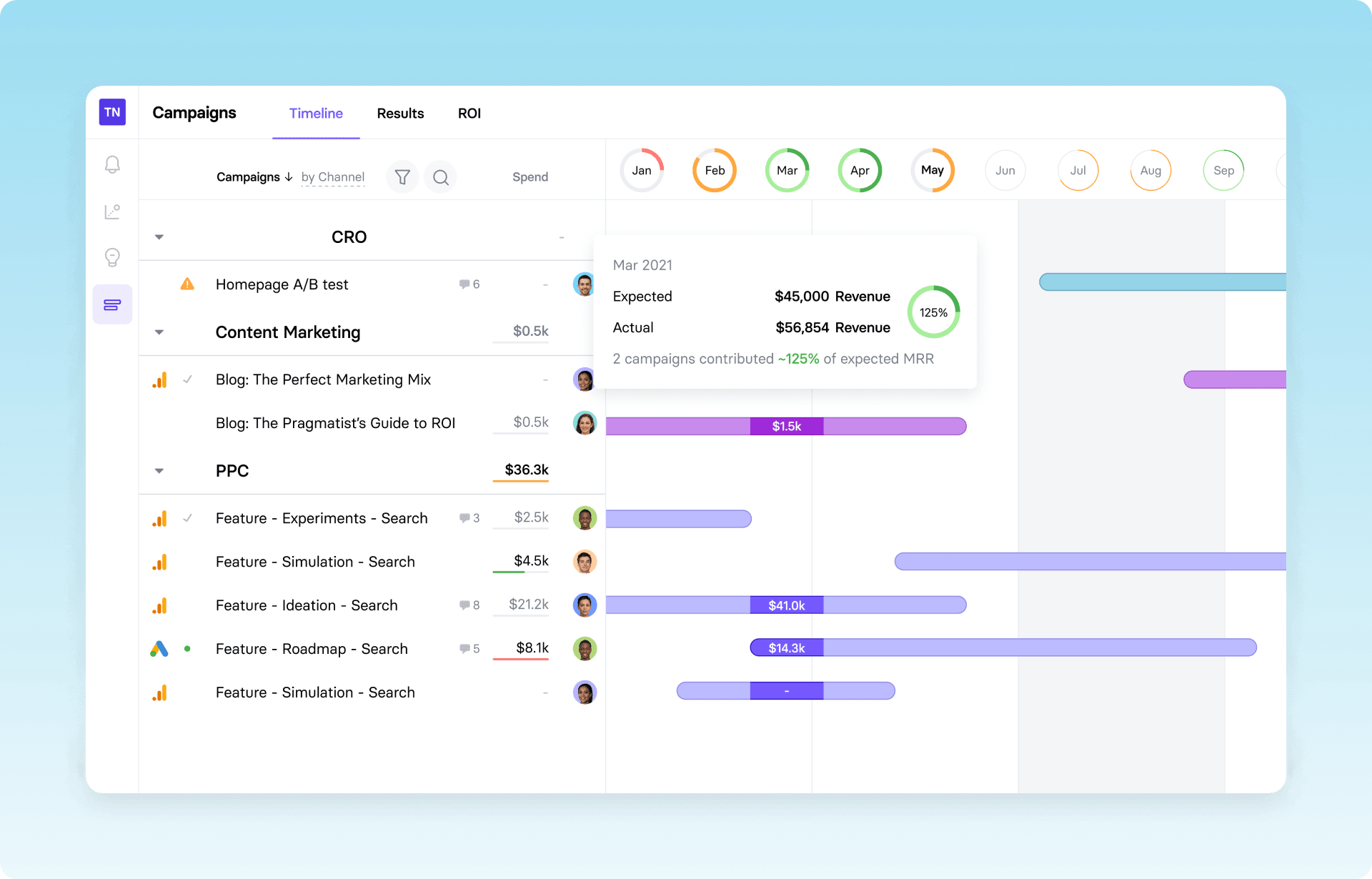 Additionally, as TrueNorth is built exclusively for marketing teams you'll also find a lot of handy integrations with platforms like Google Analytics to automate a lot of the data ingestion and produce running calculations for you.
Geru
Geru is a digital profit-forecasting and marketing simulation tool. Its main purpose is to allow users to quickly model and simulate potential profit from sales or marketing funnels. This can all be done before you create any landing pages or buy traffic, allowing you to make predictions on the performance of your campaigns.
The platform has an easy to use interface that allows marketers to add products and their costs, drag and drop marketing ideas, and then simulate traffic. You can create "What If" traffic scenarios and plan and forecast all your potential costs and expenses.
Funnelytics
Funnelytics allows you to visualise your customer journey, using an intuitive drag and drop interface. It pulls all your customer data into one visual whiteboard and lets you compare how different actions will impact the customer journey.
The platform aims to eliminate the need for spreadsheets and allow funnel marketers to map out their entire strategies. The best aspect of Funnelytics is that you can measure your success in a visually simplified way.
CRM & BI Tools
Marketo
Marketo is an Adobe owned marketing automation software that allows you to execute repetitive marketing tasks in a way that nurtures leads through the provision of personalised marketing content.
The platform's diverse range of automation functions makes it stand out amongst other CRM tools. In addition to automating many daily marketing processes that teams get bogged down in, Marketo also provides deep insights into customer behaviours. This can allow users to create more accurate marketing forecasts.
Bizible
Created by Marketo, Bizible is a marketing attribution software that reports and evaluates the performance of your marketing channels. It helps marketers to see which channels are performing the best and which ones are most likely to generate a return of investment. This allows your team to direct their efforts towards the marketing activities that will most likely produce the most revenue.
You can easily integrate Bizible with third-party tools such as Marketo, Salesforce, and Microsoft Dynamics.
Adobe Analytics
Adobe Analytics is an Adobe Cloud suite software application that's useful for gaining deep insight across all your marketing channels. It aims to comprehensively analyse web behavioural data and provide you with a visualisation of your campaign performances.
The platform is particularly effective for identifying underperforming channels and collating and storing large amounts of customer behaviour data from multiple sources.